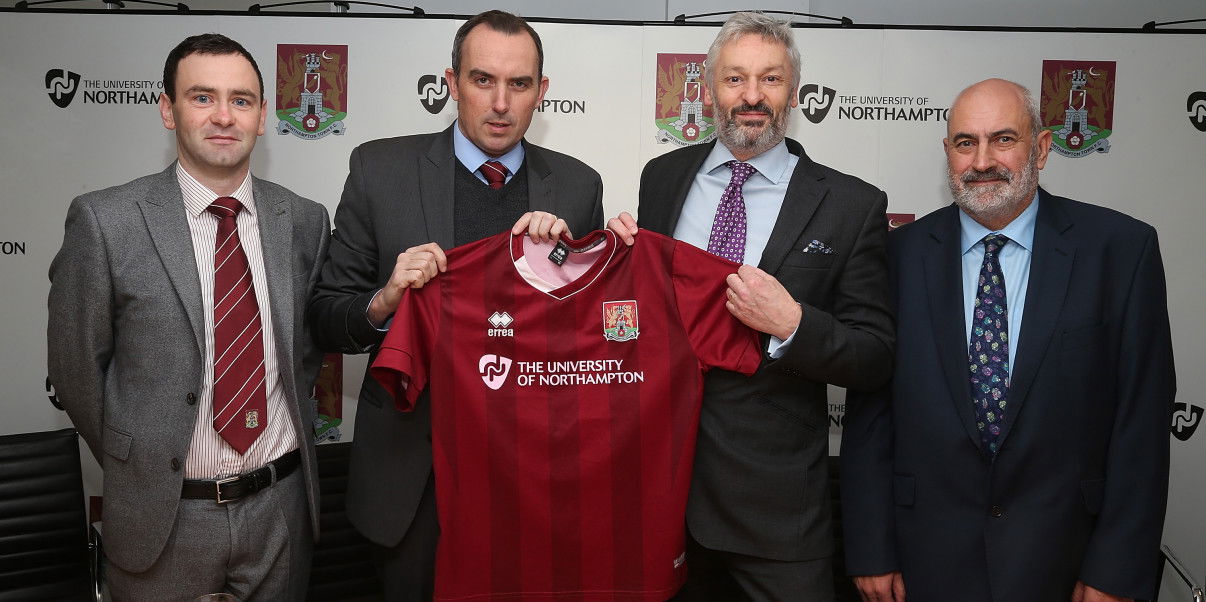 Cobblers and University of Northampton extend partnership
Northampton Town Football Club and the University of Northampton have announced they have extended their Principal Club Partnership for a further three years.
The University has been the club's principal partner since 2013, and the new agreement will see the two working closer together than ever before.
The Cobblers are in action later tonight when they face promotion rivals Oxford United and this piece of off-the-field news can only help further boost the club as it aims for League 1.
Chairman Kelvin Thomas explained: "We are proud to carry the name of the University of Northampton on our shirts, and we are grateful for the loyalty and support they have shown the club.
"The partnership will become more integrated as we move into the next three years. The University has a proud employability record anyway, but our plans include providing real-life work experience in the highly sought after environment of professional football through internships and student takeover days."
The University will also be using the Sixfields stadium as a venue for several events – including hosting their Varsity sports tournament in 2017 – in addition to inviting experts from the clubs coaching staff to give fitness masterclasses to the University sports teams.
University of Northampton Vice Chancellor Professor Nick Petford said: "Despite adversity, Northampton Town Football Club has proved itself to be the embodiment of dedication and success. "The University of Northampton feels privileged to not only continue, but strengthen its association with a club that has been at the centre of our community for nearly 120 years. "
Kelvin Thomas added: "Both the club and the University are moving forwards and we can be of huge help to each other , the community of Northampton and beyond as we do so, and that is hugely exciting for both organisations."
Watch a video of Kelvin Thomas talking about the partnership, and what it means for the University, by clicking here​.
---