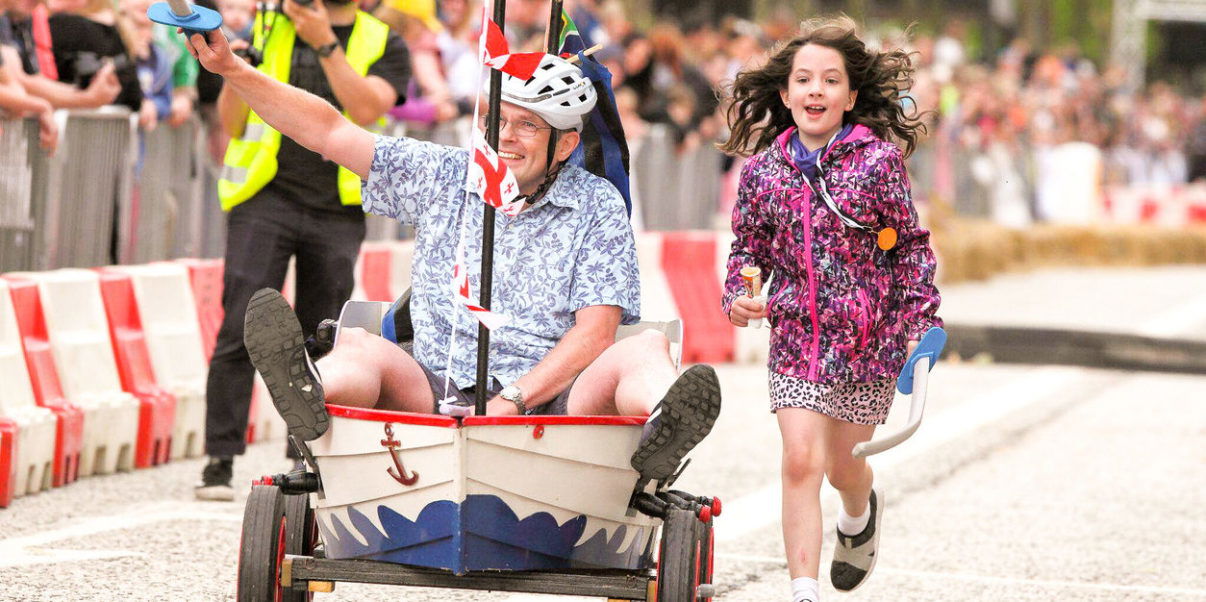 Milton Keynes Soapbox Derby set to make 2019 return
The 'MK Soapbox Derby 2019 with MyMiltonKeynes' is returning this year on Saturday 8 June.
The day will take place once again in Central Milton Keynes, with drivers racing along a 200m course on Midsummer Boulevard, as part of an event to raise money for Milton Keynes Hospital Charity Cancer Centre Appeal.
Last year's inaugural event saw some of the most amazing soapbox karts hurtle down the iconic Midsummer Boulevard, with thousands of spectators cheering them along the route.
With a new headline sponsor for the event, MyMiltonKeynes, there will also be live entertainment between the races. This year also sees more prizes up for grabs, while the soapbox launch ramp will be three times as big as last year.
As in 2018, there will be three race categories; Junior, Adult and Business & Company. But this year instead of just speed – judges will also be looking at creativity and showmanship before awarding the prizes.
You can find all the entry details including the soapbox specification requirements at www.mksoapbox.co.uk – meaning you can get your thinking caps on and start building the fastest, most creative soapbox you can!
The event is totally free for spectators, and you can line the route and enjoy the atmosphere for a whole day of races starting from 10am.
The event is organised by Milton Keynes Council, Ringway MK, MK21 and MyMiltonKeynes.
Melanie Beck from this year's headline sponsor MyMiltonKeynes commented, "This event was so well received by the people of Milton Keynes last year, that doing it all over again in 2019 just seemed obvious and MyMiltonKeynes wanted to be involved.
"Hosting this type of event in Central Milton Keynes proves what a vibrant place the city centre is and we can't wait to see the amazing creations the competitors come up with this year."
For more all the information in the build up to race day visit www.mksoapbox.co.uk and follow the event on Facebook via www.facebook.com/mksoapboxderby/ and on Twitter using the hashtag #MKSoapBox.
---