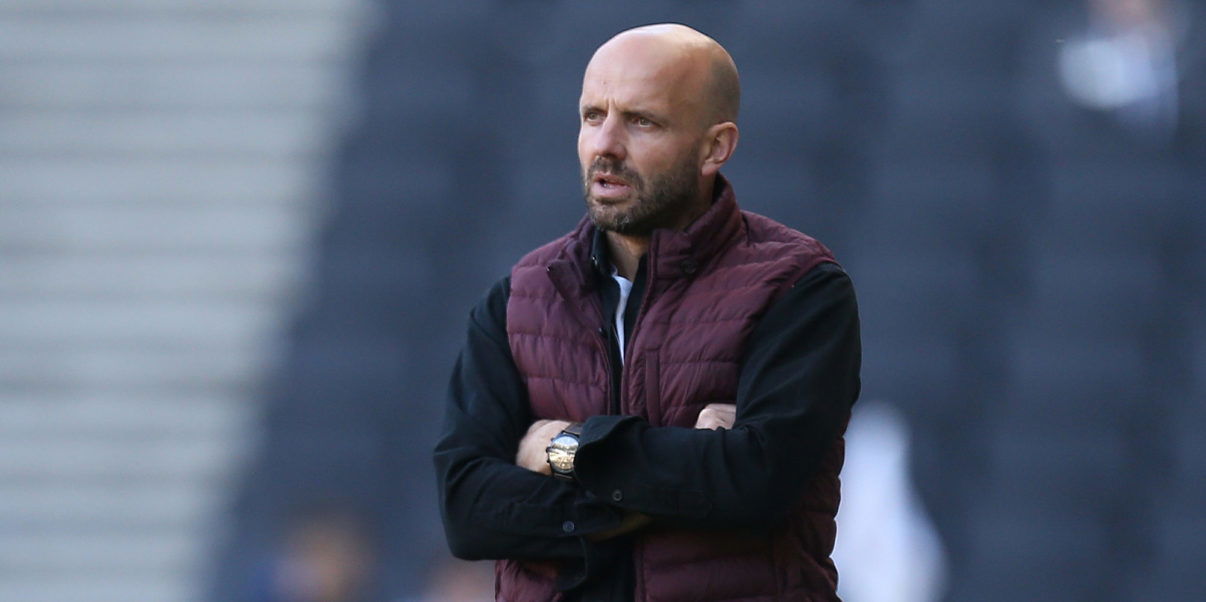 Paul Tisdale looks for to MK Dons to improve after last gasp Shrews success
Paul Tisdale has suggested more work is needed for MK Dons to improve after their last gasp victory over Shrewsbury.
The Dons boss spoke to the press after his side won their first game of the season against Shrewsbury Town at stadium mk. A last minute goal scored by Rhys Healey via a big deflection off Ethan Ebanks-Landell decided the contest.
Tisdale voiced his delight to get the win, but said the team showed they needed more positive play to break down their tightly knit opposition.
He said, "I'm absolutely thrilled to get three points from a game where neither team really looked like winning it, and I know we've got to be better."
He then continued, "We were very structured and considered – too much. Its our first game and we've had a long wait for it. We had a team very well organised defensively against us. It was one of those games where it was on us to make mistakes when trying to make things happen.
"I liked us generally. I like the consideration, structure and attention to the patterns but we needed a bit more spark, rhythm and forward play. We got it in the last 5-10 minutes. So credit to the players, including the ones who came on, as at the end there was more rhythm."
The goal came at the end as a move involving all 3 MK Dons substitutes lead to the late strike. Tisdale pleased the quality of the build-up, if he was quick to highlight the fortunate nature of the strike.
He said, "We got a fortuitous goal, albeit off the back of a very good pass from Baily (Cargill), then a very good pass from Ben Reeves, then Rhys with a very nice turn and shot. There was quality, if it went into the net fortuitously."
With the Dons' first game postponed, and a Carabao Cup tie against rivals AFC Wimbledon forthcoming, Tisdale was pleased to get a winning start and was pleased to have the high of an opening victory from which to build on.
He said, "We got the three points and we're off and running, but I'm pretty sure we know where we need to improve. So its on to the next game.
"Its not them individually in isolation and how hard they try, although all those things are important. We take that as a given as we know the players we've got. We've just got a rhythm and direction through the time that creates more forward play. We got it in the last minutes. I've just got to adjust it to work it, but we got 3 points and a clean sheet, so there's a lot for that."
---