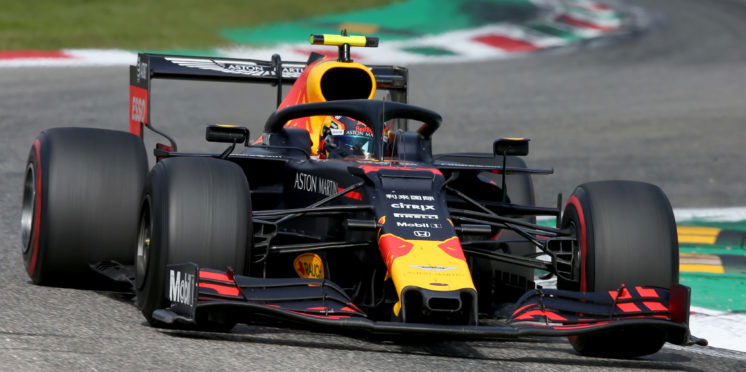 Red Bull F1 settle for top 8 finishes at Italian Grand Prix
The Red Bull Racing F1 team settled for top 8 finishes at an Italian Grand Prix beset by problems in the early stages.
Alex Albon finished in sixth, with the Thai-Brit driver losing places after going wide trying to overtake McLaren's Carlos Sainz and then being given a time penalty for cutting the track in trying to pass Haas driver Kevin Magnussen and gaining an advantage.
Meanwhile, Max Verstappen came 8th. The Dutchman, who dropped to 4th in the Drivers Championship after Charles Leclerc's victory, was forced to start in 19th due to engine penalties and a loss of power in qualifying, and then had to pit on the opening lap after making contact with Sergio Perez at turn one. But he recovered to take points.
Speaking after the race, Albon accepted it was a difficult weekend but came with some positives. The driver was unable to set a lap time in Q3 following the bizarre incident in qualifying when everyone tried to go slowly, and admitted he just didn't have the straight line speed, but also felt his race pace was improving.
He said, "There were positives for me even though the race didn't go as planned. It isn't the easiest track for us and we had quite an unlucky weekend in the qualifying. I didn't have a great start and had to fight my way back though the field.
"Unfortunately, we didn't have the pace on the straights to overtake so I had to do my manoeuvres on the corners. That resulted in a lot of side by side action and at one point I just lost a bit too much grip going that wide so it started to get messy. I had a few offs and took a five second penalty. However, my race pace is getting better with the car and I feel I have made a good step up from Spa so personally speaking I am happy."
On the other side of the Red Bull garage, Verstappen admitted he had a difficult race but that the team made some progress with their engine side and will continue to improve.
He said, "I got front wing damage under breaking into Turn 1 as everyone slowed up and I clipped Sergio's rear tyre. We then pitted for a new front wing and the race was still on as I had really good pace in clean air. I managed to pass quite a few cars but we got unlucky with the virtual safety car as it came out the lap after I pitted and three or four cars which I had already overtaken were back in front of me.
"I passed them all again but it was pretty painful on my tyres and then at the end I got stuck behind Perez for the second time in the race. I just couldn't get past him as he was so quick on the straights. We have made some steps forward with the pace of the power unit but we will of course keep working hard to improve even further."
There were no points for Red Bull's junior team Toro Rosso. Dany Kvyat failed to finish after an oil leak was spotted just after his pit-stop, while Pierre Gasly finished 11th. The Frenchman was also compromised after having to avoid a crash with Lance Stroll after the Canadian had been hit by Sebastian Vettel following his earlier spin.
---