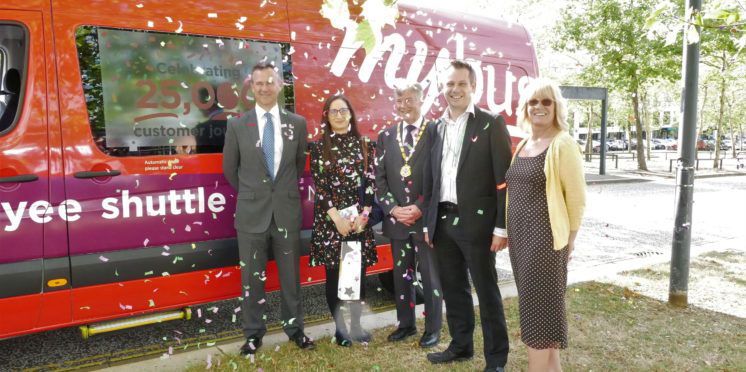 MK MyBus welcomes 25,000th passenger
The My Bus free shuttle bus service dedicated to city centre employees has welcomed it's 25,000th passenger since launching last November.
The My Bus service is provided by MyMiltonKeynes, the local Business Improvement District, and runs Monday to Friday, from 8am to 6pm on a circular route clockwise and anti-clockwise, via Silbury and Avebury Boulevards.
It is a service that connects 21 locations throughout the city centre from the Network Rail offices by the station up to the shopping centres and leisure districts.
Employees working within the city centre can download the free MyMiltonKeynes app (on iOS and Android) to register, ride for free and access live bus times.
The 25,000th passenger was greeted by Mark Lancaster MP and Sam Crooks, Mayor of Milton Keynes, on a recent journey.
They said, "I am a frequent flier of the My Bus service and it is a fantastic scheme! I love the MyMiltonKeynes app which shows me exactly where both the buses are with not more than a few minutes' wait at the bus stop. I take both the clockwise and counter-clockwise routes, be it for travel between home and work or to the shops at lunchtime.
"I have been very impressed with and made good use of the rewards on the app. All in all – a very happy customer!"
Melanie Beck, Chief Executive of MyMiltonKeynes commented, "We are thrilled with the uptake the My Bus service has had, when it started back in November 2018 we never thought we'd hit 25,000 passengers so soon.
"It just goes to show that thinking outside the box and providing a well-run, regular service for employees has made a real difference to people getting around the city centre and accessing the amenities and attractions on offer."
On top of this milestone, the service has also been nominated for a 'National Transport Award 2019' in the category for Most Innovative Transport Project; winners will be announced in October.
To keep up to date with the latest information from MyMiltonKeynes follow them on social media search 'MyMiltonKeynes' or visit www.mymiltonkeynes.co.uk.
---