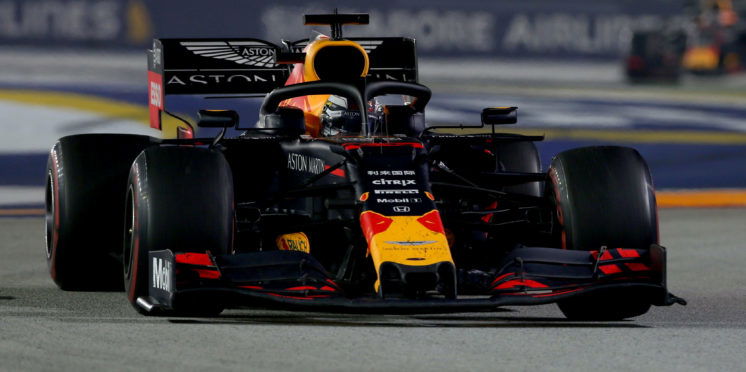 Verstappen & Red Bull F1 land Singapore Grand Prix podium
Max Verstappen returned to the podium with a third place finish at the Singapore Grand Prix.
The Dutch driver landed his first podium since F1 returned from the summer break. The podium is his 6th visit to 2019, although he was largely unable to challenge Ferrari as their two drivers managed a one-two finish on a track Red Bull had hoped to be more competitive at.
Alex Albon finished in 6th position on his first ever race at the challenging Marina Bay track, having largely been in a duel with Mercedes' Valtteri Bottas but he was unable to find a way past the Finn.
Speaking after the race, Verstappen said they managed a good result when measured against pace shown by others in qualifying, and that he was also happy to hold off a pushing Lewis Hamilton in the late stages.
He said, "Of course we always want to win but finishing on the podium and gaining one place on a track where you can't really overtake is positive. It's true that we came here hoping for more but this is still a good result for us, especially with the pace that the others had yesterday in qualifying. Most of the race was about managing the pace to keep the tyres alive and luckily that worked out for me. Charles was managing his tyres out front and the pace was pretty slow but that kept everyone really close and allowed me to get the undercut on Lewis.
"We had good pace after the pit stop and I was comfortable in third even with all the safety car re-starts until the last few laps when Lewis was pushing hard to overtake me on newer tyres, but luckily we were able to hold on. I wouldn't say that today was that exciting from a racing perspective but Singapore has a lot of plus points being a street circuit, really tough on the body and just being a cool track to drive on."
Albon declared he felt the race was easier than expected after having to manage his tyres for a long time in the opening stages, but felt he had more positives from his first visit to the demanding street circuit.
He said, "Most of that race was just managing my tyres so it was physically easier than I expected. It was only in the last 20 laps when I was really pushing it that I could feel the strain. So, I would call it a battle of management as I started P6 and finished P6. At times it felt more like a procession than a race for me. It was also a bit frustrating as I spent the whole race stuck behind a Mercedes. As I couldn't overtake on the track I hoped that a pit stop would move me up the field but unfortunately that didn't happen and then the safety car came out a few times.
"I spent the whole race staring at a silver rear wing which wasn't that fun. When he pushed I pushed and when he saved his tyres I saved mine so I felt like I was just going backwards and forwards and it almost felt like he backed me up so Lewis could get ahead. All in all for my first time here it was a positive race."
There were mixed fortunes for Red Bull junior team Toro Rosso. Pierre Gasly came 8th, having at one point been 2nd after choosing to run long on hard tyres from the start.
Dany Kvyat meanwhile finished outside the points, with a race of mixed fortunes ultimately given a dent after a collision with Kimi Raikkonen.
---