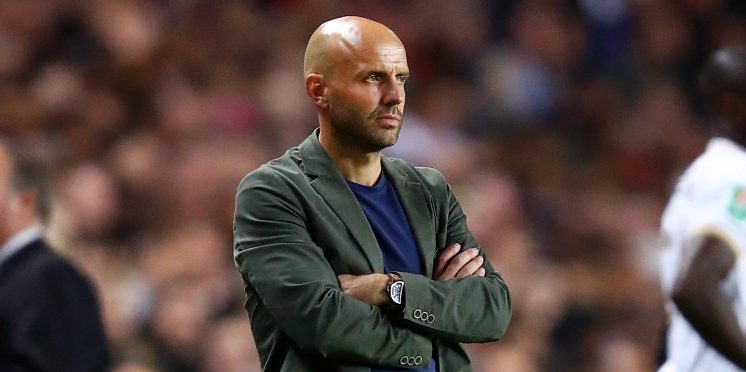 Paul Tisdale pleased after MK Dons pick up win over Fulham U21s
MK Dons manager Paul Tisdale spoke of his delight as his team got through a Leasing.com Trophy tie against Fulham U21s.
Speaking to the media after the game, Tisdale spoke of his delight at much needed game time for the returning Jordan Moore-Taylor, young debutant Matthew Sorinola, and at generally managing to pick up a victory.
He said, "Its a clean sheet with a win, while Jordan Moore-Taylor puts on a shirt for 45 minutes and played well. The temptation was to keep him in on but I'd kick myself if I did that any something happened. Matty Sorinola did exceptionally well as a young first year pro – he made some really good football decisions.
"We could've scored more and could've conceded one or two, but there were positives there. We're changing the team every minute at the moment, it seems, but today was about the positives. We needed a goal and a win and we got them."
Tisdale said it was particularly good for Kieran Agard to score after a recent period without striking. He also said the team didn't want to devalue the competition due to its potential for lucrative games further down the line.
He said, "Let's hope so. Its good for Kieran to score. There were one or two players who had 90 minutes who arguably could've done with a rest, but it was an almost impossible decision to decide who to rest. You don't want to completely devalue the game because you never know what's around the corner in this competition – it can get quite exciting if you go through the rounds."
Tisdale spoke of his delight at the continuing recovery process for centre-back Moore-Taylor, who played for the first time since January. The Dons boss revealed progress is still being made to bring him towards fitness, but that it represented a positive opening step.
He said, "I feel really pleased for Jordan Moore-Taylor. Before any comment on the game and detail, he's a very committed player who's been out for 9 months and he did really well.
"There's a big difference between being 95% fit and 100% fit. There's all sorts of intangibles, but he's made the first step today. He's made of the right stuff – he'll think correctly and when you think correctly, eventually he'll act correctly and he'll do that in time, and I'm really pleased for him."
Sorinola played 70 minutes on his full debut, and Tisdale hoped it would see him use it as a launchpad to establish his confidence.
He said, "There aren't many players who can just drop in and it just takes off on one straight line to success. As a young footballer, you go through all sorts of peaks and troughs and long spells of hoping and wishing and wondering if it'll ever happen. A night like tonight pushes him on and gives him confidence, and who knows how important that can be when that moment comes again."
In goal, Stuart Moore played 90 minutes one week on from his high profile mistake against Liverpool, and Tisdale insisted that the episode was now all in the past.
He said, "He's a good goalkeeper. When we dissected his game a day or two after Liverpool, I wasn't cross about the mistake. Its a mistake. He's a terrific shot stopper and what can you say about a mistake like that? There are other parts to his game you'd be surprised I was talking about more.
"Its a good talking point – the mistake has gone now and its not something we talk about."
---