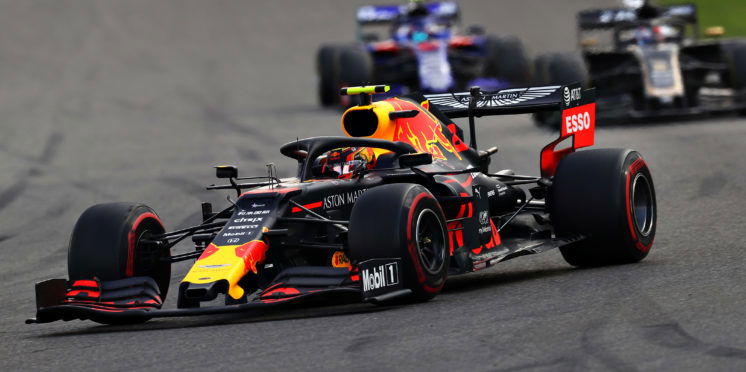 Red Bull F1: Career-best for Albon as Verstappen left to rue early run-in
Red Bull F1 endured mixed fortunes at the Japanese Grand Prix, as Alex Albon finished 4th while Max Verstappen failed to finish after an early collision.
MK-based driver Albon took a career best finish as a result. The Brit-Thai driver initially fell behind the two McLarens, but managed to get his way past both to land fourth, if he was too far back to mount a challenge for a first career podium.
In contrast, it was a difficult afternoon for Verstappen. The Dutchman had initially got past both Lewis Hamilton and Charles Leclerc, only to make contact with Leclerc at turn 2. Verstappen's race never really got going after that, and the team opted to retire the car on lap 15. Leclerc later received time penalties for crashing into Verstappen and continuing with a damaged car after the contact.
Speaking after the race, Albon said the team did want more, but he felt very comfortable on a first visit to Suzuka.
He said, "Immediately from FP1 I felt comfortable with the car and the balance, which is important for a track like Suzuka where you need a lot of confidence, especially on your first visit! I wanted more in the race and felt like I could have done better at the start but I had too much wheel spin off the line and lost a couple of places to the McLarens.
"I managed to get back past them but by then I had already lost a lot of time to the lead pack. The move on Lando for P5 was on, he gave me space and left the door open but it was a bit tight! We then managed to get past Carlos with some good strategy by undercutting him, but from then onwards we were in no man's land in P4.
"I'm still finding my feet but overall I'm happy with my pace and progress and we took a step forward this weekend. Coming into the weekend we probably wanted more, especially for Honda, and we were close but we just didn't quite have the pace."
Verstappen was left frustrated by contrast, and said they had work to do ahead of the next race in Mexico.
He said, "I had a really good start and I think I was up to third place which was positive. I stayed on the outside at turn two but Charles drove into the side of my car. I guess Charles was trying to recover places after the start but it's a long race so there was no need to risk so much so early. We both lost out but he managed to carry on once he replaced his front wing. I re-joined at the back of the field but my car was severely damaged and we had to retire on lap 15.
"It's very frustrating as I think we had a good chance of being on the podium again especially after such a good start, which would have been amazing for all the Honda fans supporting us. We are definitely improving and the gap is closing but there is still more work to do before Mexico."
Red Bull's junior team Toro Rosso had their own mixed fortunes. Pierre Gasly was ultimately classified 8th, although this came when the results were classified a lap early and before final lap contact with Racing Point's Sergio Perez. Dany Kvyat was classified 12th, although both results are provisional after a protest was raised against the legality of Renault's cars, who were initially classified 6th and 10th.
---