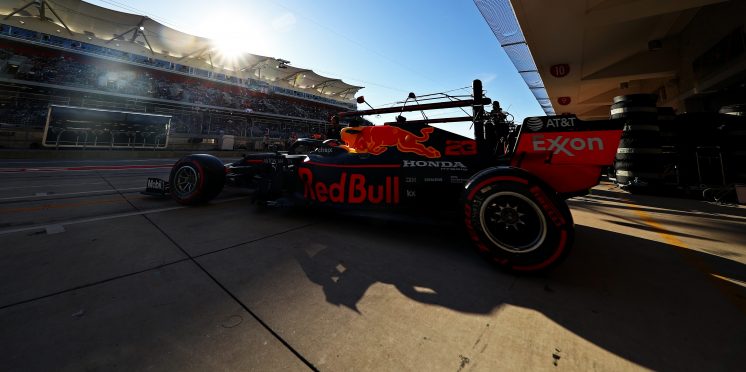 Verstappen takes USA podium for Red Bull as Albon achieves comeback
Red Bull finished in the top 5 at the United States Grand Prix, with Max Verstappen earning a podium and Alex Albon voted Driver of the Day for multiple comebacks.
Verstappen finished third on his 100th Grand Prix start, behind the Mercedes duo of Valtteri Bottas and Lewis Hamilton – the latter of whom won the world championship with his second place finish.
Alex Albon came 5th, but had a more difficult afternoon. The Milton Keynes-based driver suffered damage after contact with Carlos Sainz on the opening lap, and was forced onto an unconventional 3 stop strategy due to problems with his only hard tyre set.
But he recovered to finish 5th, keeping his record of top 6 finishes since joining Red Bull in August and winning the official F1 Driver of the Day fan poll.
Speaking after the race, Verstappen admitted a slight disappointment at being unable to pass Lewis Hamilton or getting the chance due to yellow flags after Kevin Magnussen crashed. But he was also delighted at landing a first podium since Singapore despite some car damage.
He said, "I'm very happy to finish third on a track like this. On the last few laps, the yellow flags hurt me and I couldn't pass after the straight, otherwise I think we could have finished second. After the race I realised I was missing quite a big piece of my floor which is a shame as I think we could have been even more competitive otherwise.
"I had a good start and then I tried to follow Valtteri but it seemed like they had a bit more pace than us so to finish roughly five seconds behind him is a good achievement, especially considering our car damage. I think the two stop was the right way to go and I don't think we could have done anything differently as it was the fastest strategy for us. I think we've taken a good step forward and we're back in the fight.
"It is of course very impressive for Lewis to win his sixth title and you have to be very consistent to achieve that so he deserves it."
Albon's first race in the United States was one where he felt he did the best they could after his first corner incident, but he also said he enjoyed being able to overtake despite his floor damage.
He said, "I've enjoyed my first weekend in America and I think we did the best job we could with P5. The start was strong but I'm a bit frustrated with Turn 1. I need to watch it back but it felt like I got squeezed and obviously had nowhere to go as three into one is a bit difficult! I don't think it was anyone's fault, it was just racing, but I had to run over the kerb which damaged my floor and front wing.
"From there we had to pit and I lost a lot of time so our race was pretty compromised, otherwise I think maybe we could have fought Leclerc for P4. In the end it was a strange race but it was fun and I enjoyed some good overtakes to get back to the front. Considering we had no safety cars and had floor damage, I think we did well to make our way back through the field."
Toro Rosso had a difficult afternoon, as the Red Bull junior team saw both finish outside the points after late incidents with Racing Point's Sergio Perez. Pierre Gasly suffered suspension damage following a run-in with the Mexican and was forced to retire, while Dany Kvyat was given a post-race time penalty after hitting Perez in passing him, and was classified 12th.
---