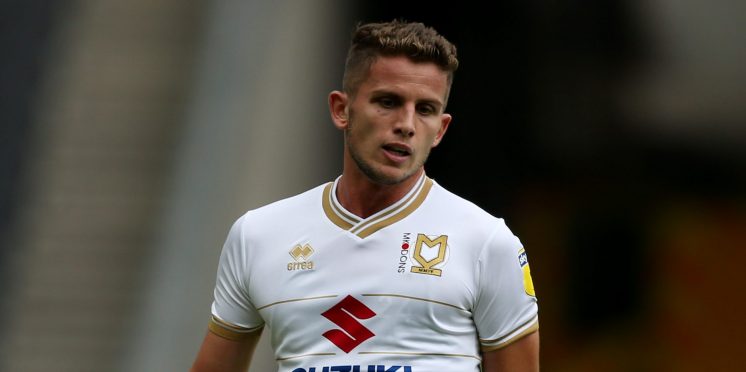 Jordan Houghton declares MK Dons' commitment to ending winless run
Jordan Houghton has said the MK Dons dressing room will do everything possible to try and break their winless run.
Houghton spoke after the Dons were beaten 3-1 at home by Tranmere at stadium mk.
The Dons have cup contests coming up in the form of an FA Cup tie with Port Vale and a Leasing.com Trophy game at home to Wycombe, and Houghton said the team just had to keep going to pick up a first win since beating the Fulham junior team in the Leasing.com Trophy in early October.
He said, "We need something to change. Maybe that'll come in the Port Vale game or Wycombe after that in the EFL Trophy. We've got a couple of games to try something different and play with less pressure, but we've just got to keep going.
"You just want to get this run out and done with, and get a win on the board. Hopefully that'll come on Saturday but we'll do everything we can. Hopefully it'll come."
Defeat to Tranmere would see the Dons suffer an 8th defeat in nine in the league – a result that ultimately saw Paul Tisdale leave the club after the match. Houghton voiced the anger of the dressing rom after a game that tilted in the away side's favour following Kieran Agard's first half red card.
He said, "Its hard to put in words to be honest. We're just all so angry to be honest. We had the game and I thought we looked good, although they went 1-0 up, as I thought we had a bit about us and looked dangerous. Obviously, the red card kills you, doesn't it? When its not going for you, its not going for you. We've got to stick together as it will change."
Houghton was close to the incident when Agard was shown red for a tackle on Neil Danns. He refused to blame the referee over both that incident and a consequent incident where Dean Lewington was elbowed as reasons for loss, instead choosing to voice frustration at the chain of events.
He said, "I was close to it. At the time, I didn't think much of it as I thought it was a firm challenge, although he's rolling around. I saw the ref charging over and as soon as I thought that, I thought he'd made his mind up quickly.
"Those ones are a bit tricky. The ref has either seen it or hasn't, but I don't want to blame it on one or two decisions. Its really frustrating but we've just got to stick together. I know its frustrating for the fans especially, but we've just got to do our best. We'll give it everything to the very end, and its what we'll continue to do."
Houghton admitted the team were stuck in a difficult position, but said the team was determined to try and make things right.
He said, "When you're on these runs, its funny how football works. You just never seem to get that little break. Its difficult and we're pretty deflated, but its up to everyone to pick ourselves up and go again. We've got an eager group to keep going."
---