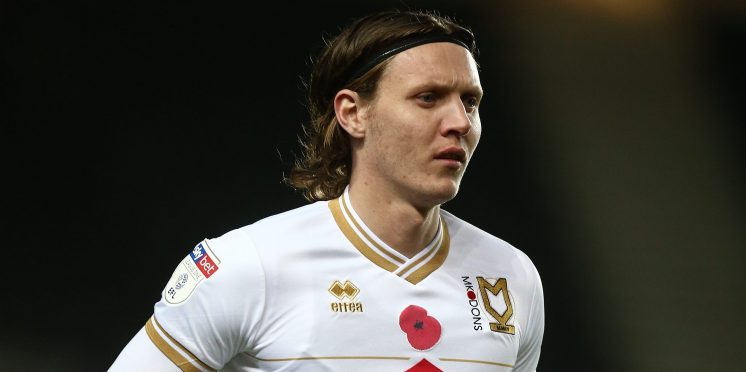 Joe Mason says Coventry win demonstrates MK Dons' recent improvement
MK Dons striker Joe Mason has said the team is showing signs of improvement as they picked up victory over Coventry City.
Mason spoke after scoring in the Dons' 2-0 win over the Sky Blues at stadium mk. The striker said the team played well and showed enough in the second half to get the result.
He said, "You can imagine the feeling in the dressing room is really high. I think we played well again tonight. You can see what we're trying to do is not going to come overnight, but we're slowly getting there.
"We didn't really come out of the traps as quickly compared to the game against Rotherham, but I thought in the second half we got better."
Talking about his goal, Mason said he was able to catch the keeper off guard in doing so. He also said it was a confidence boost and he was looking to continue.
He said, "I think I caught the keeper off guard a little bit. It came across my body and I didn't see anyone in the box, so I thought I'll go for it and it was nice to see it go in.
"My confidence is high now and I'm going into every game thinking I can get a goal. Hopefully if I get picked for Saturday, I can do the same."
Mason also talked about the impact of getting the victory, which was the Dons' first since beating the Fulham U21s in early October. The striker said it was a big boost to the team, and that they would raise their confidence for Saturday's trip to Doncaster.
He said, "Its big. The atmosphere is good anyway day-to-day, but you want a result to get you going. We got it tonight, and now we need to get it in the league.
"We've been playing with confidence anyway but the wins takes the shackles off a little bit. We need to pick up points in the league, and we'll be going into the game full of confidence."
When comparing the Dons' change under their new manager, he said the team is creating chances, and now needed to work on their defensive shape.
He said, "You can see tactically its different to where we were a few months ago. I think we're creating a lot of chances. We could shut the door at the other end and not give away as many chances, but we're getting better."
The Dons had a pause between their defeat to Rotherham and this contest, and Mason felt this was something that build on the positives from that positive.
He said, "We've been doing a lot of work. You can see on the pitch what we're trying to do like playing out from the back. We played the strikers a bit wider tonight as we've been working out in training. There's been a lot – its not been a week off.
"There were a lot of positives from the Rotherham game but the result overshadowed that. Tonight, we got the positive performance, especially in the second half, and the result, so its all good."
---