FEATURE: Recalling the time when Muse "played" Milton Keynes Bowl
This summer will see the National Bowl in Milton Keynes enjoy both one of its busiest and weirder summers.
On the one hand, there will be live shows almost every day in August, and for a venue that has not regularly been used since the re-opening of Wembley Stadium and the arrival of the Emirates and Olympic Stadiums in London as big scale gig venues, this is a huge summer of live music for the Milton Keynes venue and no doubt the surrounding estates that will listen in.
However, this is offset by the fact the unusual scenario that these will be part of the first nationwide series of drive-in gigs. Acts including The Streets, Kaiser Chiefs, Dizzee Rascal, KT Tunstall, Beverley Knight and more will be playing the Bowl as part of Live Nation's Utilita Live from the Drive-In concert series, where acts will perform to audience members in 300 cars parked in individual boxes as an attempt to do socially distanced concerts.
It will certainly be looked back on as a unique way to see some acts live, albeit as a necessary evil at a time when gigs may otherwise have not happened. But for this writer, seeing a slightly different to usual performance at Milton Keynes Bowl is something that I also witnessed (in part) on an early summer afternoon in May 2010.
In September that year, I saw Muse at Wembley as part of the stadium leg of The Resistance tour. After support slots by Biffy Clyro, White Lies and I Am Arrows, the gig was a 2 hour multi-media extravaganza showcasing music from the band's 5 albums at the time (well, 4 as debut LP Showbiz was ignored).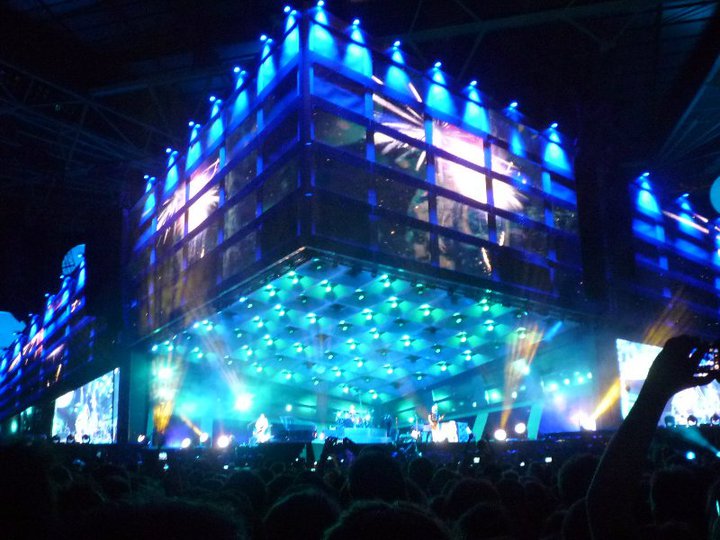 The show was a huge spectacle – the central stage was a giant pyramid-shaped office-block covered in lights and video screens, referencing 1984's Ministry of Love, with a giant all-seeing eye at the top, a light-studded chairlift moving into the crowd, confetti cannons, a UFO balloon with an acrobat dancing off the end, an LED suit for singer Matt Bellamy in the final encore and all kinds of flashy toys.
As a 17-year-old big Muse fanboy, it was a good time. It was certainly more fun than being sat at home watching their Glastonbury headline set earlier that year on television, which is something presumably shared by all those who had tickets for this year's cancelled edition binge-watching the old sets put on BBC iPlayer.
But its one thing I roughly knew what to expect from YouTube videos captured by fans at stadium shows in Europe earlier that year. However, the slightly unintentional May preview at Milton Keynes was very much a unique experience.
In May 2010, it was mentioned in fan circles that a large pyramid structure had gone up at the Bowl and that whispers were going around locally that Muse were borrowing the venue to test their gear. Snuck photos from locals would appear on forums, and hushed tones suggested a full rehearsal might happen.
The more tangible moments would come on the weekend of May 23/24, when the fan's forum and a nascent Twitter were live Tweeting when the band appeared.
After persuading Dad to drive – it was a few years before my driving test would be passed – we came to Milton Keynes late on the Sunday in time to see the band going through an instrumental take of Resistance, before following into the big hitters Starlight and Time is Running Out.
It was intriguing to note the difference, given that Muse seem to rehearse instrumentally except for Matt Bellamy commenting notes to the band's roadies on how the show should look throughout.
Perhaps the single strangest moment came during the symphonic-rock of Exogenesis Overture, where an inflatable UFO balloon orbited about as a simulation of a planned bigger prop for the full tour itself.
Nevertheless, for the 45-60 minutes I was about, up to a partial run-through of the band's seemingly permanent show closer Knights of Cydonia, it was very cool to listen to the songs in a slightly different format while grabbing a preview of the stage – largely in the form of the top third or so. Indeed, while the main Bowl venue was closed, there was still a small crowd building up in the park around the venue that seemed appreciative of the noise from within.
Closer than us, as documented by a clip still lurking on a French Muse fan club's Facebook group, were some Italian fans who snuck in to the venue to get a full look. They certainly did try, given part of the video saw them later actually running around the stage filming the band riffing through the song New Born, while being chased by security.
These rehearsals were less dramatic than a pre-stadium tour rehearsal in 2013, which saw the band begin their European run at the Ricoh Arena in Coventry and a passer by mistook fire cannons being tested the weekend before the gig for an arson attack at a time of tension between stadium and football club.
It was cool to go back and see archive records, be it an official record on the band's website of behind-the-scenes photos of the rehearsals, or grainy footage shot with 10-year-old cameras and phones on YouTube of the tip of the stage.
Muse's sole full gig in Milton Keynes according to the people in their fan club who track these things was in 1999, supporting the heavily Smiths-influenced Britpopers Gene at a venue called Carriages – a venue so little remembered that this gig seems to be the only record of it.
It would be fun if, in some post-pandemic sphere where we all feel comfortable enough to go to gigs, that Muse mix it up from their usual London stadiums routine to give MK a try, but if nothing else, this evening still retains a vivid memory for those who gave it a listen.
---