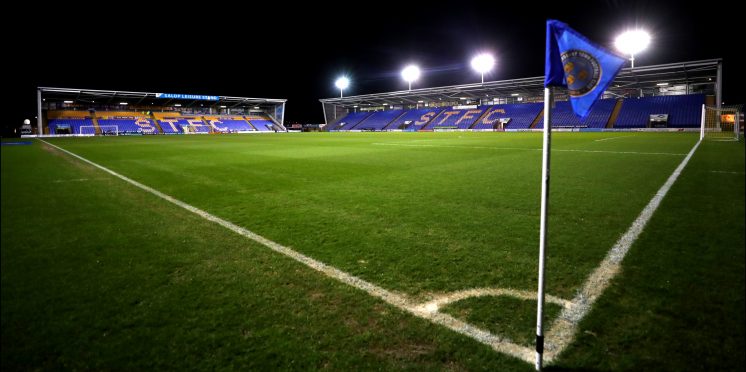 Northampton's trip to Shrewsbury selected for fan return trial
Northampton Town's trip to Shrewsbury Town this weekend has been selected as a trial for the return of fans.
The match at Shrewsbury's Montgomery Waters Meadow ground will be played in front of a crowd of 1,000 Shrewsbury fans, and is one of 8 games from 10 previously announced that will be used as a trial event for the return of fans to English football stadiums.
All professional football games played in England since the resumption of professional sport in June have been played without fans, with the exception of a trial event at Cambridge United earlier this month and a pre-season friendly for Brighton and Chelsea last month, although limited numbers have been allowed into non-league grounds.
Northampton's trip to Shropshire is one of four games in League One selected, with games at Blackpool, Charlton and Hull also being chosen.
EFL Chair Rick Parry said, "It's encouraging that we are in a position to move forward with the next phase of the pilot programme and give a small number of our clubs the opportunity to welcome back up to 1,000 fans this week.
"The health and well-being of supporters and their wider communities remains the priority, but as we showed at Cambridge, social distancing can be applied safely. By extending across more EFL clubs we hope to further demonstrate that the measures developed can allow fans to return in greater numbers from as early as next month.
"The requirement to welcome spectators back through turnstiles has not diminished in any way, the financial challenges facing EFL Clubs have been explained on numerous occasions, they are substantial and a problem that requires immediate solutions."
The government's Culture Secretary Oliver Dowden added, "I know that many fans are eager to return to football and that jobs depend on this too, so fans will welcome news that the EFL will be running number capped, covid secure, and socially distanced pilots this weekend.
"This will help us build the evidence base to see how we can return fans safely in greater numbers as soon as it is safe to do so."
---