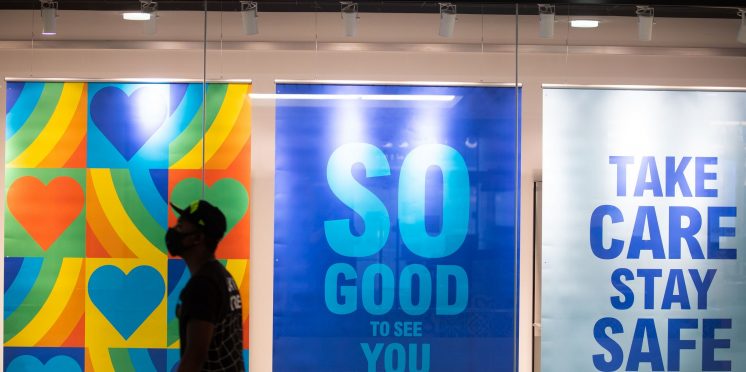 centre:mk and intu Milton Keynes discuss excitement over shop reopening
The centre:mk and intu Milton Keynes shopping centres have spoke of their excitement to welcome shoppers back.
Non-essential shops are set to re-open on April 12th after clearance from the government to do so.
The centre:mk have confirmed that established stores such as John Lewis & Partners, Primark, Next, M&S and TK Maxx are scheduled to fully reopen at centre:mk on 12 April 2021, while other major stores are preparing to extend hours to make sure they can meet demand.
As part of their plans to re-open, centre:mk have also confirmed that the Harrods' luxury beauty concept store H Beauty is set to launch its biggest boutique to date at the centre in Spring 2021. The store will welcome a host of new brands to centre:mk, as well as a range of fully experiential amenities including a luxury coffee-to-cocktail bar, blow-dry bar and in-store beauty treatment facilities.
Other new stores to have recently opened their doors with centre:mk shops include Hamleys, Dune, Lyons and Love
Local.
The community-focused Love Local Hub is the pilot store of a national project created to help budding retail entrepreneurs across the UK. The pop-up space, which acts as a showroom for 75 independents, is designed to provide a stepping-stone for small local retailers in the area.
Kevin Duffy, Centre Director at centre:mk, said, "It's great to be back and re-opening in such a strong position with a new concept from H Beauty focused on experience, at a time when experience is everything. Our guests will discover a great retail line up and exciting range of brands unmatched in the region which we are confident will give them the physical shopping 'hit' they've been craving over the last few months!"
At the intu site next door, the shopping centre's general manager Shelley Peppard, general manager at intu Milton Keynes has said she is looking ahead with hope and excitement for the centre and its visitors following a time of change and uncertainty.
She says, "Once our centre reopens for non-essential shopping, intu Milton Keynes will safely welcome back its shoppers, as we have done before. We are expecting to maintain the safety measures, such as wearing a face covering, but we are hopeful this is the beginning of the end. Now is the time to focus on the positives and we have lots to be excited about in Milton Keynes."
The shopping centre plans to welcome new retailers, including the recently announced new store SD by Suit Direct Milton Keynes, with more planned to come. In 2020, intu Milton Keynes welcomed the new Next Beauty & Home store alongside Blue Inc and their successful Indie Collective pop-up, which supported local independent businesses in the run up to Christmas.
The operators of intu Milton Keynes have also been said that they have been working hard to secure events and attractions to the centre to encourage people to visit, details of which will be announced soon.
Peppard added, "With so much to look forward to in the coming months, myself and the team at intu Milton Keynes will be delighted to welcome you back to the home of premium shopping at the heart of Milton Keynes. Once the shopping centre is back open and we're able to go out, our retailers will need your support more than ever, so please come out and let us remind you of what you've been missing.
"I'd like to say a big 'thank you' to everyone who has supported us throughout and played their part in helping to keep everyone safe over the past year. We ask that if you need to make a visit for essential services that you continue to wear a face covering, remain socially distanced at all times and make use of our hand sanitising units around the centre."
---