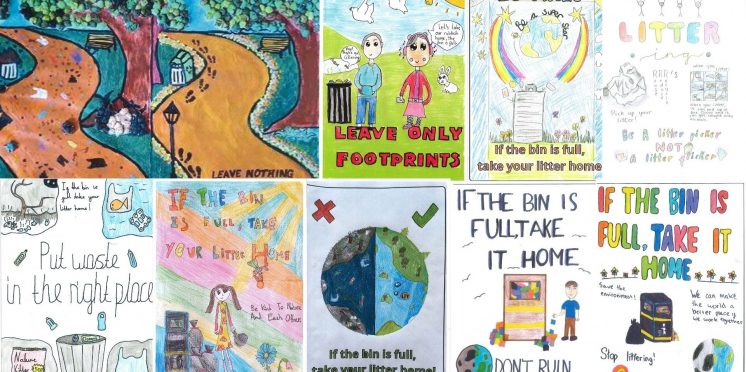 Parks Trust in MK open the votes for Litter Poster contest
The Parks Trust has opened voting for a contest to choose a new poster to combat littering in Milton Keynes.
The opening of the voting process is the culmination of a competition opened during March. The Parks Trust and Environment and Waste Team at MK Council launched the Litter Poster competition. They called on local 5 to 11-year olds to help them tackle the rising issue of litter by creating a brand-new poster to be displayed in their parks and across the city.
Over the last 6 weeks, they have been inundated with entries receiving over 200 posters from 29 different schools and 3 community groups. The Parks Trust and the Environment and Waste Team at MK Council found it incredibly hard to whittle down the hundreds of entries to just ten. The standard was extremely high, and they want to congratulate everyone on their posters.
The Parks Trust are now asking again for help to pick a winner. They have uploaded the top ten posters to their website and would now like you to vote for your favourite.
The winning entry will be displayed in the parks and across MK Parish noticeboards, and the winner will also be gifted a set of litter pickers for their school or a session for their class with The Parks Trust's Outdoor Learning Team. The closing date for voting is Midnight Sunday 16th May.
Sarah Griffiths, Outdoor Learning and Interpretation Manager at The Parks Trust, said, "Thank you to those teachers who used the litter poster competition as a chance to discuss littering with their students or watched our litter assembly. We were especially impressed to hear that some students had been taking part in litter picks as well! Well done to both students and teachers for helping to make MK a better place."
Due to the number of entries this does mean not all posters have gotten through to the top ten.
As The Parks Trust has received so many fantastic designs they are hoping to be able to display these at their Howe Park Wood Education Centre when this reopens later in the year.
Visit their website to see the top ten entries and to vote for your favourite theparkstrust.com/littercompetition.
---