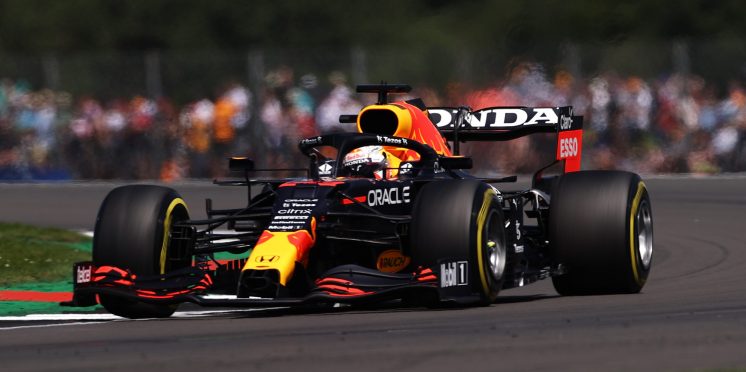 Red Bull F1 value British Grand Prix crash damage at over £1.3million
The Red Bull F1 team have valued damage following Max Verstappen's crash at the British Grand Prix at over £1.3million to fix.
The figure quoted came in a column from team principal Christian Horner, which was published on the Red Bull F1 website as his reaction to last weekend's controversial event at Silverstone.
Verstappen hit a crash barrier at Copse corner at high speed on the opening lap of last Sunday's event after contact with primary championship rival Lewis Hamilton. The car lost a wheel in the immediate aftermath of the contact with Hamilton's Mercedes, before Verstappen's car span into a crash barrier at high speed. The force of impact was clocked at 51G, with Verstappen's car suffering significant damage to the side of the car that made contact with the barrier.
In his comments, Horner said the damage was valued around $1.8million US dollars, which works out as around £1.3milion at current exchange rates, and would be expensive to rectify in the first season where F1 has raced with a $145million budget cap for activities in the season.
Horner's comments on the damage read, "That crash has cost us approximately $1.8million and an accident like that has massive ramifications in a budget cap era."
Red Bull's 23-year-old Dutch driver was initially checked up at Silverstone's on-site medical centre before being airlifted to Coventry Hospital for further checks. Verstappen was discharged at 10pm on Sunday night, around 7 hours after the incident happened, with the hospital staff happy he had suffered no significant injury as a consequence, and he should be fit to take part in next weekend's Hungarian Grand Prix.
Talking about the immediate aftermath of contact, Horner said, "When Max was unable to respond on the team radio, time stood still. In that moment you forget everything else apart from the safety of the driver, a person who is like family to all of us and it reminds you of the risk and reward in our sport. When he was finally able to speak, the relief was enormous and then to see him helped out of the car by the medical team, albeit somewhat dazed and in need of support, was an incredible feeling.
"Max was monitored closely and later released from hospital at around 22:00 and was able to travel home the following day. I spoke to him again on Monday morning and he felt like he'd done a few rounds with Tyson Fury. He was battered and bruised but feeling lucky and grateful to the medical team, as we all are, and in true Max style he was already trying to put it out of his mind and look ahead to Hungary."
In his remarks, Horner said that his analysis was that Hamilton was going to overshoot the corner after braking late, and that contact was inevitable with Verstappen so close.
A war of words has also emerged between the Brackley-based Mercedes and Milton Keynes-based Red Bull teams since the incident. Members of both teams lobbied race director Michael Masi over team radio with multiple messages in the immediate aftermath of the collision, while both teams have also made further comments about the incident and Hamilton's penalty.
Hamilton was handed a 10 second time penalty that was served at his pit-stop, though he was still able to win the British Grand Prix for an 8th time.
Horner's Red Bull colleague Dr Helmut Marko has suggested the team are looking at appealing to the FIA that Hamilton's penalty was inadequate and should be hit with further sanctions, with Horner saying the team are considering their options, while both Mercedes team principal Toto Wolff and technical director James Allison have argued the penalty was harsh.
Wolff has also said some of the criticism made by Red Bull figures was "too personal", with both Wolff and Horner stating in recent remarks that a lot of immediate comments made by both sides were emotionally charged in the heat of the moment after the major incident.
---