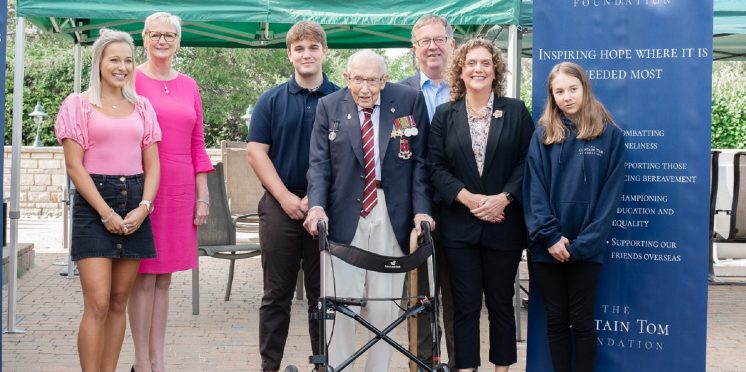 Captain Tom Foundation to support Willen Hospice
Captain Sir Tom Moore and his family have announced that Willen Hospice will be one of four charities to benefit from their new charitable Foundation
Following the launch of Captain Sir Tom's foundation last week, the Hospice joins Helen and Douglas House Hospice in Oxfordshire, and the national charities Mind and the Royal British Legion.
The Foundation has been set up following Captain Sir Tom's record-breaking lockdown fundraiser, which raised £38.9M for NHS Charities across March and April.
It aims to ensure his message of hope becomes an enduring legacy and inspires a next generation of fundraisers. The Foundation will focus on causes close to the hearts of Tom and his family: combating loneliness; supporting people facing bereavement; championing education and equality; and supporting friends overseas.
Hospice Chief Executive, Peta Wilkinson, attended the Foundation launch along with supporter and volunteer, Georgia Richardson, whose father Jim was cared for at the Hospice.
Peta said, "We are thrilled to be working with the Captain Tom Foundation. Everyone at our charity was truly inspired by his phenomenal fundraising effort in the summer, which took place so locally to us. To be part of his Foundation is an honour and a pleasure.
"As well as a local connection, we share common values with Tom and his family. Like them, we are committed to giving hope, supporting people facing bereavement, educating people in end of life care and how to live well with a terminal diagnosis. We thank them for choosing to partner with us."
Speaking at the launch, Captain Sir Tom said, "I never dreamt that this could happen. The overwhelming generosity of people, during a period of darkness, has shown the resilience and caring people are capable of during a time when there was anguish and instability.
"After all that we have achieved over the last few months, and with the world still in recovery, it made sense to us to create a legacy. To raise money and push towards our vision of a more hopeful world. So, together with my family, we have created The Captain Tom Foundation. Now we can all stand shoulder to shoulder to make sure Tomorrow will be a good day".
Find out more about the Captain Tom Foundation at https://captaintom.org/
---